I had the honour to interview* Ben Garvey, founder at GLG "a group of competitive gaming fans who want to make a positive impact on the esports community". We talked about his path, esports vs traditional sports, charity and how they are changing the rules of esports.
*Please, be aware that this was an oral interview, so it was used conversational English. I kept the edits minimal to preserve the tone of the interviewee as much as possible.
"Charity made GLG what it is. I just don't want to make money; I want to help others as I go."

With more than one thousand recurring and returning players in the past few months, Ben Garvey is a fourth-year student at the RIT (Rochester Institute of Technology), who created Great Lake Gaming (GLG). It all started with his passion for video games and his dream of starting a game studio to design video games, but an offer to start a Call of Duty team changed everything: "From there, I realized it's pretty cool and I moved on from doing the game studio stuff to wanting to run an esports business."
From passion to business: how esports became a career
Have esports and video games been a common theme in your life?
When I was young, my parents didn't allow me to play video games, or at least not that much. At a certain point in my life, I started playing Minecraft and got competitive with friends, which made me approach the world of esports. I was ten when I got into Star Wars Battlefront. I met a guy and we bonded and even though I've never met him in real life, we've been friends for over 12 years now.Anyway, we would play competitively together, start our own clans, things like that. We'd get groups of like 10 or even 40 of us sometimes to play games together.
So, that was my start into thinking of games as groups of people competing against one another and scheduling matches on specific days.
Then that kind of dropped away in high school just when high school life took over, but I still cared about video game design. So, that's how it came up and why I wanted to go to college for it.
When I got to Call of Duty esports here, at my college at RIT, I was like "Yeah, this is it right here."
How did everything start? You were running your COD team; what happened next?
I realized that there weren't any physical locations to play video games with one another for our call of duty team; we had to bring our own PlayStation and monitors to set up with each other, or we'd play from our own rooms or dorms. The internet connection just made it really difficult to play really well together. So, I told myself, "Let's get a space at one of our computer labs." I got permission to use a computer lab and it worked great.
From that moment on, I grasped we should have an esports facility and that it could be a business.
And that's how I've created a physical place.
After that, I got into a school program where they gave me some money to start off. My school, the school of individualized study at Rochester Institute of Technology, accepted me into this exclusive program called the "gap year fellowship" and they allowed me to take a year off of classes to focus on my startup. I received some funding and if it wasn't for that support, I wouldn't be doing GLG right now.
From there, I started planning events on my college's campus: we'd invite colleges around us to play with each other and we would go to Canada for an event with Humber college.
Then, I also coordinated charity events on campus for mental health, Call of Duty versus our public safety. It was really fun, it was a new event for the club and we had over 100 people buy tickets and support the event!
The RIT's gap year fellowship
How does the "gap year fellowship" work? Did you make a selection?
I submitted an application for the Gap year, writing about what I was trying to do with GLG 'cause I had this idea before I applied for it. I told them I was trying to be an entrepreneur and that I was trying to start my own business, that I wanted to change the industry and a bunch of other stuff I talked about.Actually, I shared my vision and they were really impressed because, in the meantime, I've already started to work on the project and I was working with several other RIT students.
So, they were like "This is great. This is what we're looking for: a way to involve the local community in a startup program at Rochester."
Great Lakes Gaming: changing the esports rules
Now, tell me a little more about GLG. What is its mission?
I'd want to change what's going on in the industry right now.
You see a lot of shady business practices going on, people taking advantage of the esports scene, people taking advantage of people. For example, people are not paying their broadcasters or production staff: they are giving you six to eight hours per stream and you don't pay them, or you don't like to give them something in return.
The typical saying right now is, "Oh, come work for us and we'll get you that exposure or work for us, for the experience." But that's people's time that they're giving to you and time is invaluable; you got to at least reciprocate with them somehow.
That's what I've been really trying to do with GLG: I try to find the people that are the best of the best when it comes to what they do, I bring them in and then I just try to work with them and see what their personal goals are and if there's anything that I can do to help support them. In that way, it's mutually beneficial and they're not wasting each other's time.
GLG: when esports meet charity
Focusing back up for a second. You named some charity events, tell me more.
We made more than one, but there are two that really touched me.
First, I think it was our fourth event we've ever done online. It was with Kenny Moore, he's the cornerback for the Indianapolis Colts an NFL team in the US and an RIT alumnus, Nicholas Lemieux was doing a startup as well and introduced me to him.
We collaborated and did a charity event where we raised over $1,200 in entry fees alone for a kid with cancer. It was great; it was a really fun Call of Duty event.
Then the second charity event almost brought me to tears, to be honest, because it was for the cystic fibrosis foundation.
If you don't know, it's a genetic infection in the lungs and it makes it really hard to breathe. Basically, these people that have CF live as if they have COVID constantly; they have to live with that their entire lives.
Anyway, we were doing this charity event to raise money for them, someone that signed up for our tournament showed up and he was like, "Hey, this is awesome. I have cystic fibrosis and it is really cool to see an esports for this. My brother just passed away three years ago and we would play Call of Duty all the time," wishing that there would be cystic fibrosis charity events and to finally see one. I was listening to him talk as we were conducting an interview with one of our casters.
Our casters started tearing up and then I almost started tearing up.
It was really good. It was a really good event too.
I get a lot of people angry at me because money or profit is not an immediate priority. It will come; that's my idea. The harder I work, it'll eventually come. But right now, in order to get there, I want to make a name for myself and the way to do that is to actually be a genuinely nice guy and care about the community.
Why did you decide to make charity events? I mean, it's not that common. When someone starts their own startup, they just think about making money… I find it admirable what you do.
Charity has always been a part of my life since I was young: like five years old. Then I made lemonade stands and donated the money to the Red Cross or something. I was also a Boy Scout and then became an Eagle scout. I just volunteer to help others that need it.
Since I was that young, I knew I wanted to start a business too, or just be on my own kind of a thing and I wanted to always have charity be a part of that dream.
Charity made GLG what it is. I just don't want to make money; I want to help others as I go.
Through good and bad
You said, "I get a lot of people angry at me because I don't care about the money". It shouldn't be so easy to be a tournament organizer and to please everyone.
I've made mistakes trying to run tournaments or organizing tournaments and making the structure and whatnot; it happens. But the reason why people keep coming back to our events is that we fix our problems; if someone complains to us, we talk to them: "I'm sorry, you feel that way. Let's work this out. what's wrong? How can we fix it?" And so, every tournament we had, we adjust to what the community wants and fix our problems.
That takes time going through the nitty-gritty details.
What do you like the most about the organization?
When someone does something cool at our tournaments, we get a clip of it and we tweeted out "Hey, check out this awesome clip of such and such player" and then the comments are burst of joy and excitement. Or even when the Twitch chat goes crazy, people hype up the teams in there.
It's cool to see the interaction between the players, the fans and it's so amazing that whole connection between everyone.
What gets your blood boiling, instead?
I know what it is. Scheduling, trying to schedule people for events. I've worked at a deli and country club before I got into GLG and so I was always the one being scheduled by my managers. I never really knew what it was like to schedule, but I always thought, "how can scheduling be this difficult? This is dumb. How did you mess this up? It can't be that hard."
It's hard.
Then there's always this moment, right when the tournament is starting and there's a good 20 minutes leading up to that start of that tournament where everyone goes "Oh, I remember that question I had when I first signed up a week ago so, I'm going to ask it right now". So, you get 20 people asking questions right before the start of the event and everything you can think is "Oh, God."
The dark side of esports
Talking about the esports environment. What do you think it is missing right now?
It feels a complete mess right now. There's a lot going on, but it's inconsistent.
A lot of things seem different every day and they just don't seem to make sense. So… Yeah, it's a complete mess, but in a good way. It's chaotic right now, however from that comes a lot of opportunities, endless amounts of opportunities. I don't know what specifically it's missing, but there's a lot that can happen.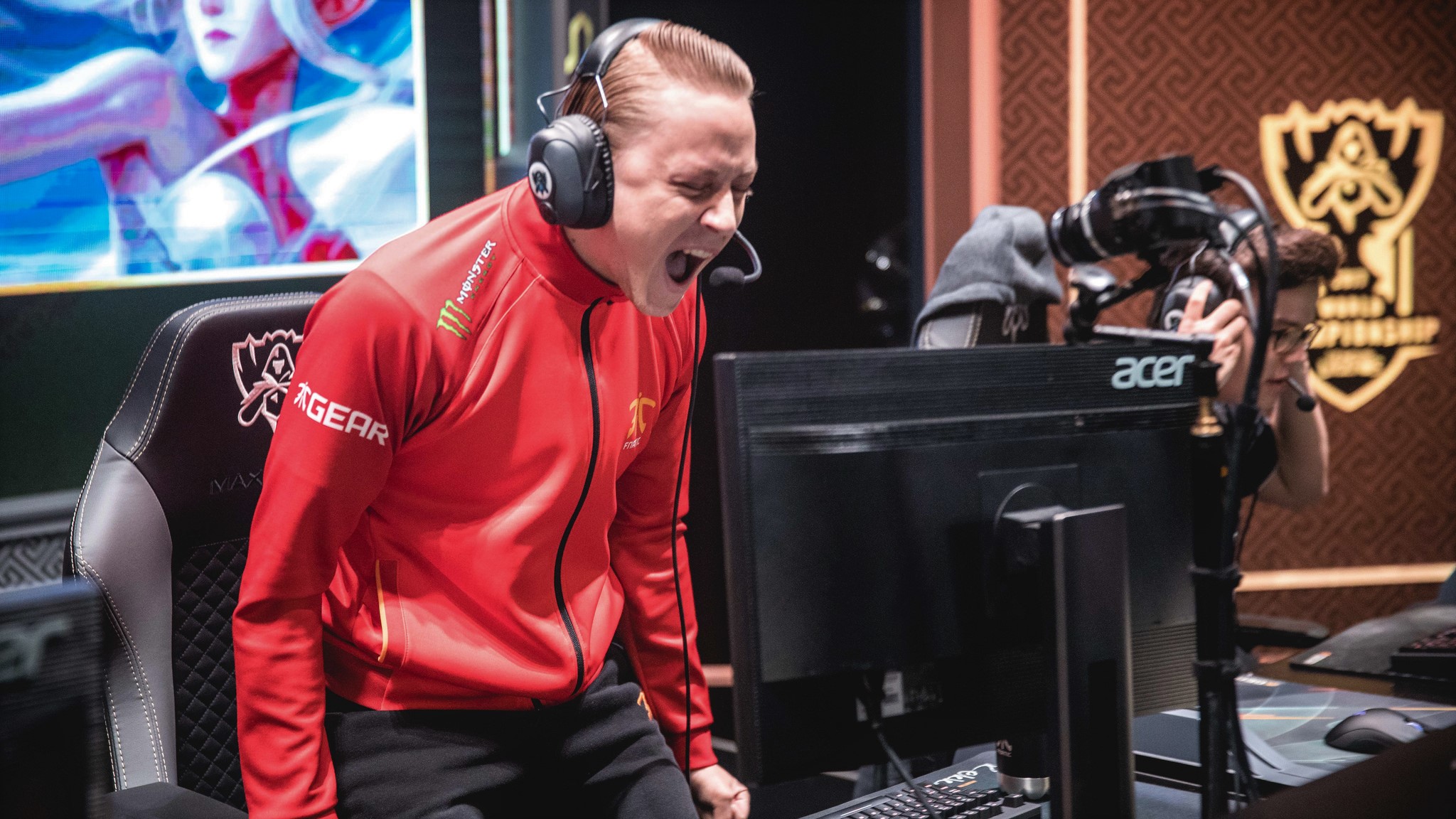 Esports vs traditional sports
 I think one of the biggest differences between esports and traditional sports is that in traditional sports, it is quite common to pay people to teach you to play soccer, for example. But in Esports, it doesn't work this way. If you ask someone to teach you, you're going to find people who are like "Why are you paying someone to teach you how to play?" This is a huge lack in the esports scene: money seems to don't have any value, the time people spend for you seems to don't have any value; it's just like you said before.
You are absolutely right about the esports scene being kind of wonky, where there's not many coaches. I think that's just due to esports being relatively new and the people that have that experience as a coach have already been picked up or are busy with other stuff. They got picked up by a better organization that's more solid and I think it's just a matter of time before enough experienced people start taking up that role as a coach.
I see things all the time, especially in the Valorant scene right now where a 16- or 18-year-old is just done playing, but they have a lot of experience.
So, they're willing to coach freelance for some teams, but then you have the odd cases where there're actual professionals trying to coach and I see this on apps like GosuNow. They're kind of small, but we've worked with them before and they're really great. They have this app that allows you to connect with coaches that put themselves out there. They just try to streamline that process; coaches-to-players.
How to become a Pro
What about recruiting? I know that for traditional sports in America, you have recruiters that go to college and look for the best players. Does it happen for esports too? How do you get a career in esports?
Sometimes, recruiters' colleges are picking that up now, where a college will purposely go out and be "Hey, I see you're in this high school. Do you want to come to our college under scholarship?" That is starting to happen a lot more if you're a pro.
Anyway, if you want to become a pro player, first of all, you have to act mature.
If you're just constantly cussing or acting such as a child, you're not going to become a pro player. I'm sorry, but that's just how it is.
You gotta act professionally if you're going to be a professional.
Next, you have to have a social media presence. Although you don't have to have a very large one, you should have one.
The more fans you have, the more chances there are that an organization is going to go for them because of their support.
So, grow a social media following or a community around you, your PR, your yourself as the player.
The next step is just constantly putting yourself out there like a pro player. Find a good team and just get into as many events as you can and just play. Get your name recognized.
Whatever your gamer tag is, make sure that the gamer tag is affiliated with a team name. That's playing in a lot of events, not necessarily winning, but coming close and showing that you guys have the skill.
Sponsorships in amateurs esports
You have an impressive prize pool. I was looking at your website and I read about $2000 events. Do you have sponsors?
There's a gaming facility in Rochester called PlayerzZone.. It's the only one right now and it was started by some army veterans who are really great guys.
I started talking with them and we wanted to do an event together so it could start building that partnership and growing the esports scene in Rochester.
We came up with a Call of Duty event for it, but that didn't really work out because Call of Duty is a mess right now. So, we decided to go with Valorant because people love Valorant right now and we put on a $2,000 tournament.
Sponsorship is not that easy and receiving money from big companies seems pretty impossible and a tough moment for every TOs ever…
Yeah. We've applied or tried to reach out to sponsors. Most of the times though, sponsors were like "we'll give you a discount code and give you a 10% commission or something." But we want more, especially at the level that we're reaching right now, you know? Yeah, we're still a grassroots, startup kind of a thing, but our production quality, our talent, what we do is a lot more than deserving than a 10% commission: send me some product, I'll put that product out there and give it away. Send me some cash to run a tournament and I will put your name everywhere.
I mean, I don't want to say it's hard to receive money, but you gotta be smart about it, though. I'm trying to create a professional brand, I'm trying to present ourselves as a higher level of professionalism instead of just some rinky-dink tournament organizer. To do that, I want to be careful about who I affiliate with our brand… I mean, nothing against G fuel, but everyone has G fuel sponsorships. I don't want to be like everyone, you know?
Wise bits and precious tips
What would you have wished to know before starting GLG that actually could have made your job easier?
I love these questions because I never know the type of answer right away. One thing I would say though, some sort of words of wisdom, would be not to get discouraged…
Don't get discouraged. If your first event doesn't work out, don't get discouraged.
If your second or third event doesn't work out, just keep going at it.
Listen to people when they give you advice. You don't have to act upon that advice, but just listen; you never know, maybe what they say is not right, but you never know what might come of it. So, just listen, because the more times that you take feedback from people and act upon that, the better you become as not just a person but as a tournament organizer as well.
The last thing is: just communicate with people, talk to people, don't blow off your players. No matter how silly some of these people might be, just talk to them eventually. If they look like they're just wasting your time and becoming a problem, then that's when you can tell them "Okay, I'm sorry, I don't think this is working out" or "I'm sorry, you're having a problem. I'll move on."
If you don't care about the people playing in your events, they don't care about your event.
What's next?
Do you have any future projects?
Yes, we got stuff cooking in the kitchen right now, but for the moment school is enough. I just want to complete my studies, learn what I can and then move on.
Join GLG on their socials: