One of the most frequent questions that people keep asking me is "How can I start getting into esports?" Well, it's never easy to answer, but "it depends" seems like quite a reasonable response, if an unsatisfying one. The process can be very different according to whether being a player or an organizer is preferred. Although I have been talking about "how to run an esports tournament" and "how to find an esports sponsors", I feel I have left out an important topic for all of those who are yearning to get into esports: how to start a high school or mid school esports league.
But first things first.
What is esports?
Esports refers to the world of competitive gaming: players challenge each other in video games to show their supremacy and win a millionaire prize pool.
In a certain way they "are the final form of traditional sports. Whilst the latter have been around for hundreds of years (tennis dates back to the 12th–13th-century, for example), sometimes struggling to get noticed by a large public, esports took just 30 years to become a worldwide phenomenon. To put it another way, electronic sports are like dynamite, while traditional sports resemble sparklers, the hand-held firework that burns slowly while emitting colored flame." (Why are esports so popular)
There is a long way to go. Players and esports fans are still trying to seek acceptance for their passion from a society that struggles to understand it.
Regardless, there's no doubt that esports are a worldwide phenomenon that's spread around the world in heartbeat, and there are many people who aspire to make a full-time job out of their passion.
How to Start a High School Esports Team
A wise man once told me that the hardest part when starting something is actually… to start. So take a deep breath, stop procrastinating and find the strength to take that step. Do not let your fear of failure stop from getting involved and just start! Keep your eyes open, but do it.
Remember that failure doesn't exist, you just evolve. (Like pokemon! Become the Charizard of your dreams!)
So what is that first step? Start by writing down a list of all the things you have to do to start an esports team.
There are four steps to follow:
Decide on a video game
Have people sign up and create the team
Find a teacher to supervise your high school esports team
Define the details, start joining tournaments and then find a sponsor.
Choosing a video game for your esports team
This should be an easy choice. Just choose the esports game that you're good at and that others likely to join also enjoy.
When talking about which kind of video games to choose to run a tournament, I often suggest picking one that's popular in the country you live in. In Italy, for example, it would be profitable to create a FIFA or Call of Duty event, in the US, League of Legends is one of the most followed esports, and so on.
However, when creating a high school esports team, things are different. If you are not driven by passion, things will not work out, so pick a game you and your friends love.
There are plenty of players out there trying to do their best to become pros. They train for hours, they share their clips, they do social media and content marketing. This is all possible because they love what they are doing.
Being passionate about what you're doing is the first step and this is possible just by choosing your beloved title.
Having people sign up and creating the esports club
You need players to start an esports team, so start spreading the word using posters, flyers or your school newspaper. Another effective way to reach out potential teammates or students is by building a landing page.
If you are not familiar with the term, a landing page is a standalone web page that's created specifically for a marketing or advertising campaign. Landing pages are used in marketing when trying to raise potential leads for a new product or service. However, I find it to also be effective for building interest for a club like this.
How to create a landing page for your high school esports team
There are many websites and tutorials that show how to create one.
I suggest using Wix.com, which is beginner-friendly and is totally free (unless you do want to remove the "created with wix.com" advertising).
A landing page is made up of three main elements: a value proposition, a clear message, and one dominant call to action (CTA). The value proposition should explain why people should buy your product or service, or in this case join your team. Use a catch phrase to create a clear, memorable message. Tell your fellow students about the benefits of getting involved with an esports team. Those benefits should be listed on your landing page as just a few main points: the shorter and more impactful, the better.
To get people to join, do not forget your call to action: a button that, in this case, entices players to join your team right away. The purpose of a landing page is to acquire more users/leads, or in your case, as many students joining as possible.
Keep in mind that people are unlikely to go out of their way to sign up for something, so make the process as easy as possible.
The High School Esports League has an easy excel template you can use to get students to join your club. You can download the file here.
On their website it's specified that you just need one student and a teacher to get started, but one of the most fundamental rules in marketing is that the more leads you are able to reach, the more chances you have to impress your sponsors, or in this case, teachers.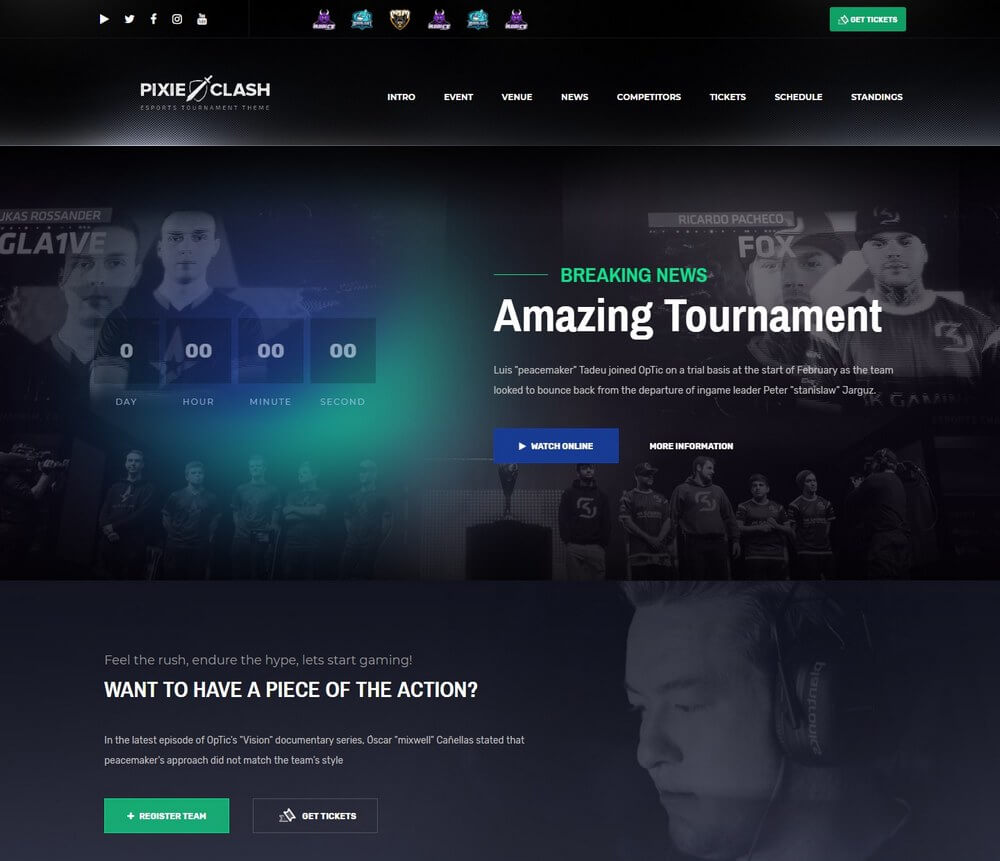 Finding a teacher for your high school esports team
Start asking teachers to sponsor and help you. This should not be a hard task, as most of the time teachers are available and happy to help students with their clubs. However, esports are a quite new phenomenon and not everyone knows exactly what they are or what benefits they can bring to the school.
The High School Esports League provides you with an email template to ask your preferred teacher to mentor your team, but if you are having difficulties getting a sponsor on board, add some elements about the esports market. Try to explain what they are and why you think they will bring benefits to your school: what students can learn from these experiences and how this will positively impact their school performance.
Defining the details, joining tournaments and finding a sponsor
Once you have team members and a teacher who supports you, you are ready to go. The next step is to determine the club's meeting location. This point might turn out to be critical, as to play and hone your game you will need gaming-ready workstations and good technology.
There are three things to consider here: Do you need to buy computers or does the school already have resources? Will the Wi-Fi be stable on its own or should you invest in ethernet connections? Do your school's laptops need extra memory for gaming? If you decide to sign up for the High School Esports League you will be required to fill out some documents.
Work on communication: start social media accounts to gain followers and supporters to help you in your pursuits. Most of the time supporters help their favorite team with donations and increase views on Twitch, so don't forsake the importance of outreach and communication.
To monetize your activity and be able to receive donations to join paid tournaments or to help you with other expenses, you can also use honeybun.gg, a platform for esports content creators that allows you to manage money, receive donations, and monetize esports.
What are the benefits of a high school esports team?
Starting an esports team will provide students with both long-term and immediate benefits not too different from those that come with other sport or school clubs.
You will gain skills for college and your future career. You will learn teamwork and how to collaborate to reach a specific goal in a given time. Being able to work as part of a team to accomplish tasks and meet deadlines effectively is an important aspect of working across any industry.
You will learn to manage both successes and failures. You'll learn to organize your time and your work. You will improve many skills such as production, programming, streaming, management, graphic design, video production, marketing, and critical thinking. You'll "get strategic as they assess competitions and determine their own game plans, again similar to traditional sports teams" (squad locker).
You will improve your school grades. According to ViewSonic, "The National Federation of State High School Associations cites a host of research showing that students who compete in high school activities do better in school. This includes higher grades, higher achievement test scores, and higher education expectations beyond high school."
Note:
*What is the high school esports league? It's an esports association, based in walnut st kansas city which "BRING COMPETITIVE ESPORTS TO YOUR HIGH SCHOOL". Check out their website.